How To Start A Coffee Shop or Cafe: Five things you must know before buying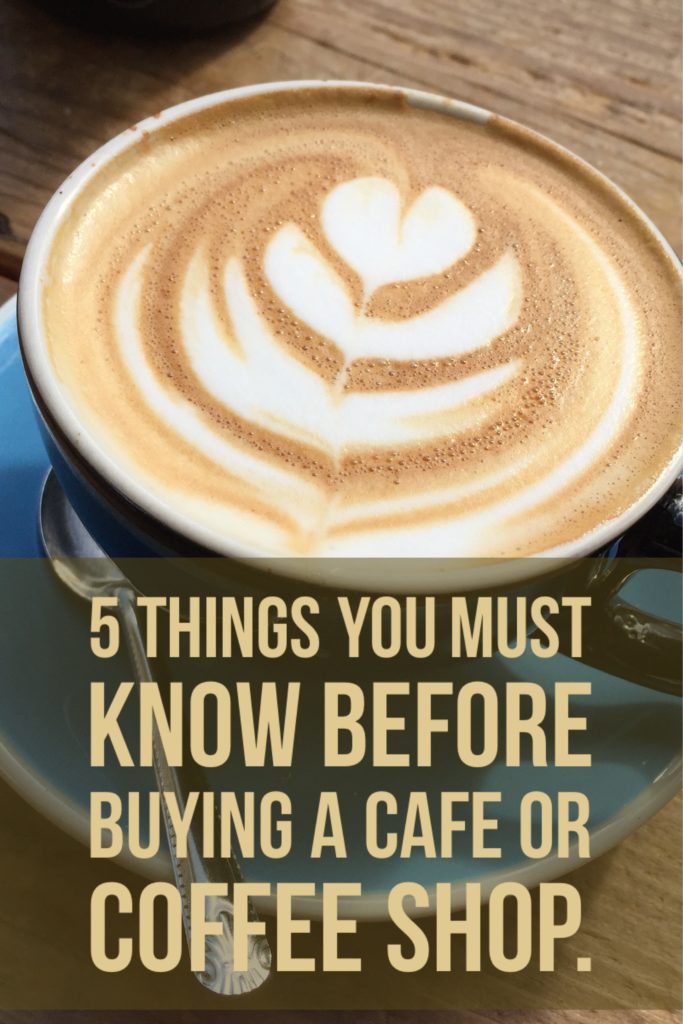 1. Establish if the café is being run efficiently.
When purchasing a café or coffee shop ensure you collect profit and loss statements and balance sheets prepared by the vendor's accountant.  These will tell you the story behind the café or coffee shop you're looking to purchase.  Using Benchmarking, the same tool that the Australian Taxation Office utilizes to establish if a business owner is being fraudulent in the declaration of profits, you can establish whether or not a business is in fact the prospect it has been painted as.
2. Increase your return on investment by reducing your purchase cost.
More often than not the buying and selling of a business is not an equitable win win scenario.  Usually it is either an inexperienced business purchaser overpaying for a business or an exhausted and frustrated flailing business owner cutting their losses and selling for what they can.  The key to buying business is to ensure you are not driven by emotion and purchasing the café or coffee shop on the 'look and feel' of the shop or the taste of their coffee.  The new business must tick all of your boxes not just some.  Purchasing low will give you a greater return on investment, and a greater probability of selling your business down the track for more than you purchased it.  This is one of the easiest ways to make money in your new business.
3. Calculate the value or selling price of a café or coffee shop.
Never make an offer on the business relative to the asking price.  Many business owners have a selling price in mind based on no reasonable calculation.  The annual net profit of the business multiplied by 3 – 4 is a good place to start.  This will allow you to pay off your business in 3 to 4 years and begin making money within the term of your lease. Obviously a good place for you to open negotiations is their net profit multiplied by 3.  This is not a clear cut rule, but my market observation and what has become common practice in the industry in Australia.  There are factors that can influence this formula which I'll discuss in a later post.
4. Work in the business prior to purchasing.
It's not uncommon for business owners not to declare their full turnover or takings in their business.  This is highly illegal and employed to evade tax.  Analysing profit and loss statements and calculating the percentage of material purchases against turnover will quickly show this.  The business owner may quietly suggest that the business makes more money than what he/she is showing on the financial reports.  This may be the case but you should never take somebody's word for it when investing.  A simple solution to this is to work in the business for a period of time.  In doing so you can quickly identify if there is money being skimmed from the registers and sales not being recorded.  You can calculate staffing levels and wage estimates, and also calculate daily material costs (that is food and supplies purchased).  Working in the café will also identify if any of the equipment you could be paying for is faulty or in disrepair.  It's a horrid story hearing of people buying a café only to have to repair and replace most of the plant and equipment.
5. Understand your Café or Coffee shop lease
Make sure you go through your lease very carefully, it's your responsibility to understand this document.  Having your lawyer go through it may uncover a few things and it's always recommended that you use a lawyer to identify clauses in your contracts that may not be in your favour, but nobody understands your business and requirements better than you, and certainly nobody cares as much as you do.  Examine the term of the lease and any options.  I would not be paying full valuation on a business if there was little left on the lease and you have no assurance from the landlord that a new one can be drawn up at the sale of the business with a full term and option available.
There are more factors which need to be considered when purchasing a café and I would love for you to share some of your experiences here with everyone.  If you've had a bad experience purchasing a café or a great one leave a comment and share the knowledge.
To learn the most valuable step in opening a cafe or coffee shop you must read this post on how to start a cafe.