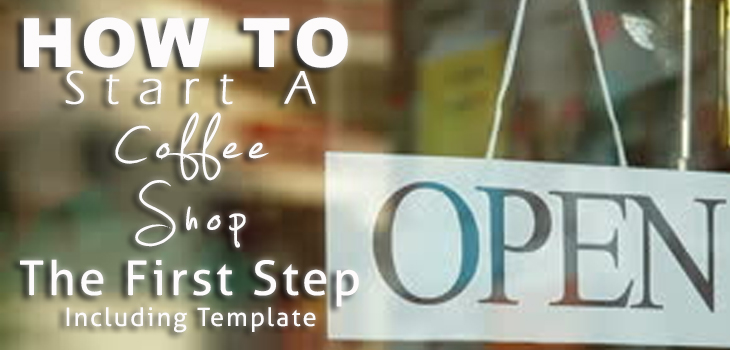 How to start a coffee shop –The first step (Including free template)
Prefer to listen to this post? Use audio player below (28m:25s):
Thinking about how to start a coffee shop or café?  I'm going to share with you the very first step towards engineering a not just a successful hospitality business but one that attracts its own media publicity and industry accolades.  If you do this exercise thoroughly you stand to save yourself thousands of dollars! Better still, do this very first step well and you can make hundreds of thousands of dollars attributable to this step alone.
It's been said success leaves clues, and this is where our first step starts.  To begin a successful coffee shop business we need to create a clear picture of what success looks like, what it sounds like, how it feels.  Where am I going with this?  Well much of the failure I see in new café businesses lies in very fundamental flaws.  Mistakes that are clear to almost every single person that visits the business accept the owner.
DO NOT RE-INVENT THE WHEEL, unless you're designing a hovercar.  Copy what is already working emulate what people can't seem to get enough of.  Study every element that exists in the customer experience of a café that is already successful.  Copy this as closely as legally possible and you will find similar success.  If you want to avoid the flaws that lead to mediocrity and failure. focus on emulating the strengths of market leaders.
The very first step in starting a coffee shop is studying the current success stories of the industry.  The easiest ways to find the current market leaders is to google them.  Every year the local paper for any given city will release an article titled 'Top ten coffee shops in (insert your city here)' It's that easy.
You can have fun with this one, if you feel that your city is a little dislocated from innovative cafes and absent of a true market leading café, you may want to take a trip to a bigger city where the coffee culture is more prominent.
Armed with a list of the top ten cafes in that city plan to spend at least a couple of hours in each, this may cost you a breakfast 2 coffees and maybe lunch.  I'm sure you won't enjoy it one bit.
When visiting each café you need to be equipped with writing and photographic equipment, school will now be in session.
This exercise will allow you to pencil all the remarkable elements of a successful business.  Do not take this lightly as you will be creating your market leading café blueprint.  A blueprint you will refer to when purchasing a café or setting one up.  The question of how to start a coffee shop will be crystal clear at the conclusion of this first step.
The first step to starting a coffee shop is finding the right location.  So let's look at where successful cafes are located.
How To Start A Coffee Shop – Location
This is the first area we're going to study by way of success.  When it comes to learning how to start a coffee shop on of the first major areas of study is location, there isn't necessarily one specific location that will ensure you success but studying successful market leading coffee shops will certainly identify a few trends.
Precinct Type                                                              
There are various precincts where a coffee shop could be located in.  Consider the following precincts and their upsides as well as downsides.
Central Business Districts – These are good, they run Monday to Friday from 7am to 5 pm in most instances.  This creates a great lifestyle and lends itself to a great deal of corporate catering.  The downside is that this privilege comes at a cost, a premium if you will; in your rent.  Depending on the exact location you may also find you can only really trade 5 days not 7.  This is both a positive and a negative.
A Café or commercial precinct – These areas can be ideal, the foot traffic is highly targeted and comes to the precinct with the intention of spending money for an experience.  These areas will trade from 7am till 11pm or later where allowable; which is great because rental is quite high in these areas so you want to be generating income for as many hours in the week as possible.
Industrial Precincts – Industrial precincts are an area of particular interest to me of late.  Only in recent years might you be lucky enough to find a market leading coffee shop in these precincts, but they are not uncommon.  These are defiantly growth areas for coffee shops in my opinion.  Workers start work early in these areas and want coffee and food.  Trading hours trend between 7am and 4pm Monday to Friday.  Market leading cafes have a tendency to bring people to their location and as such you could find that even in these areas you could trade 7 days.  The demand for corporate catering in these areas can be high and the beauty of this option is lower rental for larger spaces.
Residential Precincts – Coffee shops positioned in residential areas have absolutely no room for error.  These cafés must be market leading with the full support of the community behind them.  Trading hours are generally 7am to 11pm, 7 days a week.  There are few opportunities to find commercial vacancies in these areas, but if you do find a premises you'll likely find the rental costs are very reasonable.
Street Type
When discussing street types, of consideration should be what the thoroughfare can do to or for your business.  A four lane freeway will affect your business in a different way than a one way street.  There are many variables here and they can be in most instances what makes or breaks your business.
Study the street positioning of market leading coffee shops carefully.

What is the speed limit?

Is there street parking?

Can the traffic turn into your parking area from both sides of the thoroughfare?

Is there street landscaping?

Is there a footpath?

Where does the street lead to or come from?
In this section of your checklist you want to note all of these things in order find the underlying trend when it comes to success.
Building prominence
Building prominence refers to the visibility of the business.
How visible is the business to vehicles travelling at low speeds?

How visible is it to vehicles travelling at high speed?

In the precinct the café is located is it easy to find?

Is it on a corner or next to other cafes?

Is it off the main road or on the precincts main road?

Is it a narrow frontage or wide frontage?

Is it on the second floor of a building or within the building foyer?

Is the business visible at all?
Surrounding Businesses or activity
The businesses around your coffee shop can affect the success of your business and should also be studied.  Some businesses are quite dense in required staff, these are often found in city districts where businesses cram many staff into each level of their building.  Being situated near schools or sporting clubs can affect your business significantly also.
What kind of businesses surround successful cafes?

Do surrounding businesses have parking available for their customers?

What is the general activity that people come to the area to undertake?
How To Start a Coffee Shop – Competition
Having many similar businesses near you can often be perceived as a negative but is it?  In this section try and identify possible trends with the businesses surrounding market leading coffee shops.  As much as it is great to be the only option in a particular area for food or coffee, it can also be said that people may gravitate to areas that specialise in certain services.
Initial Impression
Please tell me you're not learning anything new when I say first impressions count.  When visiting your top ten cafes I want you to note the first thing you think of when you see the cafes you are visiting.
Impression Externally
Even before you enter into the coffee shop I want you to observe:
Whether or not it seems modern or dated

Expensive or cheap,

Welcoming,

Funny,

Dirty or clean,

Busy or quiet,

Does it look like a coffee shop, or perhaps a bakery?
Parking
Parking is important for obvious reasons, although depending on accessibility it's not necessarily required that the parking is immediately in front or behind your coffee shop.  A few items to note on your analysis of market leading cafes are:
Is there enough parking around the business or is it a necessity for a dedicated parking lot?

How easy is it to pull into the parking area from the street?

How easy is it to enter into the business from the parking area?

Was the parking experience a good one or was it distressing?

Is the parking area easily identifiable as a parking area for the coffee shop?
How To Start A Coffee Shop – Outdoor Settings
As people walk or drive past a coffee shop the outdoor setting will be one of the first impressions that will be given to prospective customers.  Market leading coffee shops don't accidentally get it right.  You need to note in this section exactly what the market leaders are doing.
Do they have branded Umbrellas or wind shields with a supplier's logo on them?

Are there flowers or plants on the tables?

Do the customers sit on milk crates?

What are the tables and chairs made of?

What identifiers exist that differentiate this business from others?
How To Start A Coffee Shop – Windows
The windows of a business can be the deciding factor for a customer either entering your coffee shop or walking past it.
What kind of signage has been used in the windows?

Is there a visible display in the window?

Is there a well-executed table setting catching the eye?
Doorway
The threshold to your business can really make a difference.  When visiting a market leading coffee shop notice the following:
How open or closed the threshold is?

Are they automatic doors?

Is it a door that's left open at all times?

Is it a solid door or is it a wide open folding door that opens the whole frontage?

How can people identify that the business is open?

Does anyone make eye contact or even greet you when you walk into the business?
Greeting
I catch myself having to remind business owners and staff on a regular basis that in the business of hospitality we need to greet our customers as we would guests in our own home.  That's hospitality.
What was your first interaction with others as you entered the coffee shop?

Were you met at the door?

Were you smiled at?

How were you greeted?
First Impression Internally
The impression of a business given before you enter the business is one thing, but creating a great second impression that's a little tougher.  In this section you need to note the feelings and emotions that were aroused in you simply by standing or sitting in the interior and looking around.
Did you think it was warm or cold?

Was it open spaced or busy and condensed?

Did it feel natural or artificial?

Was it clean or dirty?

Organised or disorganised?
How To Start A Coffee Shop – Counter Service and/or Table Service                       
The service and care you are given at a coffee shop is often that which is the most memorable and remarkable element among market leading cafes.  What you need to know is that this is never accidental.  It's deliberate and rehearsed.
Note how long it took to be attended to.

What was said?

Did they offer complimentary water and present you with a menu?

Did they recite the specials?

Did they ask how they can accommodate your particular needs?

Was the product delivered to you in a timely manner?

What about this service may have been remarkable?
Aesthetics
Aesthetics is a term used to describe the beauty or lack thereof in a subject.   In this case the hospitality business we are studying.  In this day and age of social media I often talk about aesthetics and the need to create an environment and experience which people cannot help themselves but to take photos and post them online while commenting on a business.
How To Start A Coffee Shop – Table
What kind of tables are being used and where?

Are there benches booths, square or rectangular tables?

Are they tall benches?

Are they communal?

Are they timber?

Steel, laminated?

Are they second hand or new?

Classic or modern?
How To Start A Coffee Shop – Table Setting
Do the tables have table cloths or butchers paper on them for people to draw on?

Do they have green plants on them or just a jar with raw sugar on them?

Was the menu on the table when you were seated or was it presented to you?

What is placed on the table even when nobody is seated can really spark interest in a place from the outset.
How To Start A Coffee Shop – Chairs
Chairs are important, not only are they a functional place for someone's derriere to rest but in most instances as the customer pulls the chair out they are the first tangible interaction a customer has with your business.  Chairs come in all shapes and sizes and are not even limited to the conventional.  What chairs are the market leaders utilising:
What material are they plastic, wooden, aluminium or steel?

Are they cushioned?

Are they conventional looking chairs or are they repurposed items like milk crates, wooden boxes, and wooden cable spindles?
I was in a café yesterday that used what could only be described as bleachers that people used for seating and table use.  I've observed the use of milk crates or even wooden boxes.
How To Start A Coffee Shop – Floor
When entering into a business I can't help but notice what's under my feet.
Is the floor clean or dirty?

Is the floor polished concrete, tiles, carpet, vinyl or timber?

What colour is it?

What texture?

Is it slippery or non-slip?

Does it absorb sound or echo it?

Does it absorb light or reflect it?
How To Start A Coffee Shop – Ceiling
The ceiling in an establishment is important, much like the floor it can reflect light and sound or absorb it for a dimmer setting and this can be important for ambiance.  Most lighting is mounted into the ceiling and it is in this section you need to observe the style of lighting also.
Are there ornaments hanging from the ceiling?

Is the ceiling recessed or flush?

Is it textured or flat?

Are there speakers mounted into the ceiling, how many and what type of speakers are they?

Is there an area in the ceiling that immediately draws your eye and why?
How To Start A Coffee Shop – Walls
Once you're seated you can't help but look around you, and all around you will be walls.  Walls in and of themselves are nothing remarkable, but it is what remarkable cafes and restaurants do with their walls that makes the difference.  Walls should be decorated and in this exercise we want to observe how the market leaders go about decorating them.
Do they have shelves mounted on them?

Are there clocks on the wall?

Are there picture frames? What type?

Murals?

Wallpaper?

Are they flushed or recessed?

Painted or exposing raw structural materials?

Can you interact with them or do they sell you something?

Are they branded?

Whose brand is it?

Do they share a story?
How To Start A Coffee Shop – Counter
Counters serve many purposes and an experienced market leader has anticipated these through the design of their counter.  When studying counters you want to pay attention to the following:
Is it straight or curved?

How long wide and high is it?

Is it positioned at the front of the café or at the back?

How close is it to the kitchen?

Is there a gap for food and coffee to be passed though?

How wide is the section where customers are served?

Are there multiple exit points for staff to be able to come from behind the counter to offer table service?

How wide is the section where the coffee machine is situated?

Are display cabinets built into the counter or do they sit above the counter?

Are the cabinets refrigerated ambient of hot?

What is on the facia of the counter?

What is the counter top made of?

Has lighting been used on the counter or above it?
How To Start A Coffee Shop – Coffee Machine
Do different coffee machines make a difference to the taste of your coffee? Yes.  Does the look of your coffee machine affect the perception of the coffee that you produce? Yes.  If you're about to open a coffee shop, you need to know that people discover your café through the coffee or their need for it, and they will also return to your café because of the coffee.  There's also an inverse rule at play here.  If your café sells substandard coffee you're failing in the core identifier of your business, and people will not return to your café.  Worst still, if they walk into your coffee shop and take one look at your coffee machine and decide not to order coffee we've lost a transaction or customer at the point they were ready to order.  Coffee machines come in all shapes, colours and sizes.
What are the market leaders putting on their counters?

Where are they positioning it?

What brand is it?

How tall or wide is it?

Is it decorated with artwork or custom panelling?

Is it branded by a coffee company logo?
At this point I'm asking you to note aesthetics of the machine only, to make the right decision regarding a machine there are many factors which we will investigate a little later.
How To Start A Coffee Shop – Grinders
Much like the coffee machine the amount and type of grinders will also send a message to the coffee consumer.  So again pay attention to:
The type of grinders being used

Their brand size and colour

The positioning relative to the machine and service area.
How To Start A Coffee Shop – Crockery
Crockery is often an overlooked element, this is largely owing the fact that coffee companies supply crockery or we completely unthinkingly purchase the crockery the local store has.  But is this the crockery market leading café's use?
Does it look like the café you are studying is using commercially common shapes and colours?

How big are the mains plates what shape colour and texture are they?

What about dessert crockery?

Coffee Cups?

How big is the cup. bigger than normal or smaller than normal?

Do they used different cups for a cappuccino and a different cup again for a long black?

Do they have a gloss finish or a matt finish?

Do they have handles or not?

Are their latte glasses the classic duralex provance range or a different shape altogether?
Please note here that certain colours and shapes lend themselves better to food presentation, the same can be said about the shape of the cups for coffees, certain shapes make it easier to present quality latte art.  The size of your cups for coffee will also affect the flavour of your coffee as the coffee to milk ratio can be changed.  This can often be favourable.
How To Start A Coffee Shop – Staff Uniforms
The staff uniform can often set the expectation for the whole product. Be observant of what the staff are wearing.  Uniforms are not necessarily formalised but there does need to appear some level of correlation with what the staff wear and the theme of the coffee shop.
Do the staff wear neat casual or a very 'casual' casual?

Do they wear black and whites as is the norm in silver service venues or all black?

What kind of shirts are they wearing what kind of pants or skirts what kind of footwear?

Do they wear aprons?

What kind of aprons?

How do they wear their aprons?
How To Start A Coffee Shop – Food Display
I can't begin to count the amount of times I have said this, 'people eat with their eyes'.  Perhaps you've also heard the term 'their eyes are bigger than their stomach.'  That's because if something looks good, people will want to purchase it.  If there are display cabinets in the coffee shop you are evaluating, observe the following:
What shape is the cabinet?

What size?

Is it Coloured, metallic or glass?

Where on the counter is it positioned?

How is it presented? Are there things on it?  What are these things?

How is each item of food presented?

Are the food items in the display plastic wrapped?

Is it plentifully stocked or are there only a few items in the display?

How is the food labelled?

Is it priced and how is this done?
How To Start A Coffee Shop – Counter Configuration
Counter configuration is pivotal to an efficiently run business.  This is perhaps one of the best lessons I've learnt through building 12 cafes of my own.  If you build a counter with little thought you will regret it as your experience grows, and there'll be little you can do to correct it without having to spend more money and interrupting your business.  Market leading cafes have learnt from their previous mistakes and the positioning of equipment like sinks cash registers and displays is not accidental or left to chance.  In this section you need to observe and note the following:
How long is the counter so as to accommodate what is needed?

Where the coffee grinders and machine are positioned is there a pass though for food and coffee nearby.

Is there an area for the staff to walk though easily to take food and coffee to tables?

How far from the coffee machine is the cash register?

What kind of cash register is it?

How are the menus presented at the counter, is the menu on the wall behind the counter?

How far from the register is the display cabinet if there is one?

Where do people line up to order or pay their bill if table service is not offered?

Where do people collect their take away food and coffee from?

Is the counter cluttered or clear?

Where and how is the crockery and glassware stored?
How To Start A Coffee Shop – Table/Seating Configuration
Table seating configuration is never the same as the shape of different locations is always different.  But there are some lessons to be learnt here.
Do tables run in straight rows or are they randomly scattered?

Are they aligned squarely or as diamonds?

Do most tables have 2 chairs at them four chairs or six?

Are the chairs always pushed in or out?

Are they densely placed or sparse?

Are there tables outside or only inside?
How To Start A Coffee Shop – Branding
Branding is an issue I feel very strongly about, the main reason for this is because I see so much of the wrong kind.  In this section I would like to you to note what brands if any aside from the establishments name feature anywhere on the building on the walls, on the counters on the menus or on refrigeration.  Observe the coffee shop's logo:
Is it a picture or words surrounding a picture?

Is it just text and what kind of font is being used?

What colour is the back ground if there is any and what colour is the text?

Does the name of the café include the word 'Café' or 'Coffee Shop'?

Is there an identifiable theme amongst the top 10 café names?
How To Start A Coffee Shop – Service
In an industry that can make or break a business depending on how good the service offered is, I can't begin to explain the importance of getting this right.  Observing market leading service is imperative.   Service is not something that just happens, well not at least in market leading coffee shops.  Market leaders design the customer's service experience.  Staff are trained in exactly how they will interact with every single customer and potential situation.   In this section observe and note all interactions you have with the staff.
Were you met at the door or perhaps before you entered the business,

Were you taken to your table?

How were you greeted?

Were you greeted with a smile or a look of indifference?

What was said to you at your table or at the counter?

What was the interaction when your order was brought to your table or during your meal?

How was your table cleared?

Were you offered water refills or another coffee or dessert?

What was your interaction like at the time of settling your bill?

As you stood and left your table to leave the establishment did you interact with anyone?

What final impression did this leave?
How To Start A Coffee Shop – Menu
In many regards this may be one of the most important item of research that can be done prior to moving onto the next step.  The first thing to note is the appearance of the menu and how it is presented to you.
Is the menu mounted or drawn on the wall was it given to you or did you find it on the table or at the counter.

What materials is it printed on and what font is used.

Are there images of the items?

Is there any branding on the menu and whose brand is it if there is one?

And then there's layout, and content on the menu.

Is the first page breakfast the second page lunch third page dessert and last page drinks?

Are specials represented and how?

How many menu items are featured in each section of the menu?

What kind of food is being offered?

Is there a theme present with the food, perhaps Italian, French, Middle Eastern, or British do you notice a fusion of cultural food?

What items are on the menu and what are their price points. (Although I believe price matching can be massively detrimental to your business, it may identify brand positioning through pricing.)

What kind of language is being used on the menu? Is it expressive or direct and plain?
So there it, how to start a coffee shop, the first step, and the most valuable advice I could offer on the subject of how to open a coffee shop.  Please start here and create total clarity not only in your mind but on paper, on your blue print, of what a successful café looks like.
When it comes to the question of 'How to start a coffee shop' this is the only place to start, know that this isn't an exhaustive list.  It's a guide, but I hope I've started you thinking about how important this step really is.  Please don't take this advice lightly if you are about to open a coffee shop.  Study success, and you will be able to see very clearly what will be required to recreate this.  Don't leave your success to chance when it has never been so clear how to succeed. 
Wow, that's quite a bit of information! So what to do next?  How about:
Follow me on Pinterest to keep an eye on what market leading cafes are up to 

Sign up for The Hospitality Coach Bulletin and get my free Cafe Blueprint Template so you can start your journey today.

Share the knowledge Hit the facebook, twitter and linkin buttons to share with friends.

Comment, and share your thoughts on the many factors that aren't even listed here.