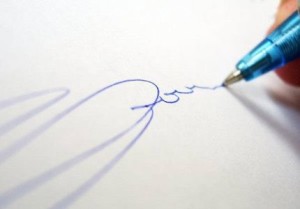 This post isn't about ensuring that you have a signature with your name and phone number on it.  Today I want to discuss how underutilised this marketing space is by most.
It's not a revelation to most business owners that an easy way to grow your business is by selling more to customers who you already provide a product or service to.  Or better still providing incentive enough to have your customers recommend your services to others.  One way to facilitate this is by using all mediums and opportunities to advertise to your current customers other services you provide or specials and events which they may not have been aware of.
In the instance of a cafe, restaurant or bar, you should be introducing your customers to catering options, new menu items, and to those who already use your services should be offered specials or upgrades to their current choice of product or service.  Offering a special can also encourage a customer or supplier to visit you… with a friend.
Here are a few ideas for your email signature:      
Link To Facebook Twitter Google Places Etc.
Appending not just links to social media like facebook and twitter but incentive to like your social pages can assist in spreading your brand and service offering to other people's networks.
Links to demonstrations or photos of your product or service.
Why not link to youtube videos or photos of your product and service
Links to customer testimonials
Linking to a list of testimonials might be invaluable especially when sending communication to prospective customers.
Links to booking forms and special offers
Why not make it easy for people to use your services by giving them everything they need immediately to buy or book your offering.  Don't wait for them to ask.
Email signatures should be simple and compact but the use of links means there is no need to deviate from this.  The above list is not exhaustive and I'm sure there are many more ways to call your customers to action, you're only limited by your own imagination.  Happy Emailing.