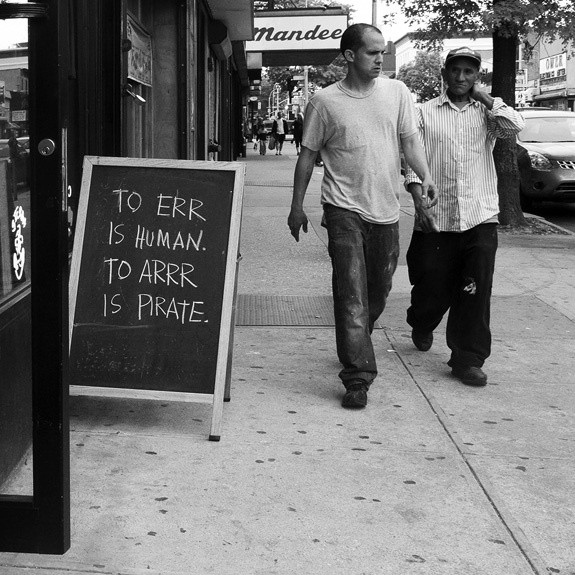 www.zimbio.com
It's 7am on a monday morning in winter, it wan't easy getting out of bed, let me tell you.  I've just parked the car and I'm joining the throng of zombies shuffling off to their work places.  I'm tired I'm down and my environment just doesn't feel human.  Sadly it really does feel like this for most people passing your cafe or restaurant daily.  When a business humanises itself in any way it can really be somewhat of a beacon for people.
Enter the A Frame Chalk Board.
A cheeky smile provoking drawing or quote can in many instances be a highlight in someones day.  Why pass up that opportunity.
Both pedestrian and vehicular traffic will slow down in front of your business.  If the message suggests you've got coffee available during those dark times you stand a better than average chance of having someone stop and enter your business.
I love walking past a cafe and noticing a bit of it's personality scribed in chalk on an A frame sign.  When asked 'what else can I do to draw attention to my business?'  I'm a massive advocate of tables and chairs outside, a splash of green or colour by way of plants and yep you guessed it… a cheeky A Frame.
Below I've compiled a great collection of chalkboard examples.  Run each message for one week and you've got 6 months worth of cheeky laughs with your customers and community.  You're welcome.
Click the below pictures to enlarge the images.
If you've come across any other cool messages share the laughs by leaving a message below.